Project Name
Buc-ee's Travel Center
Equipment Used
Kohler 1250 kW Diesel Generator
Location
Baldwin County, AL
Project Description
In 1982, the first-ever Buc-ee's store was opened in Lake Jackson, Texas. Since its first store opening, there are now 33 Buc-ee's locations located all throughout Texas. Buc-ee's is more than a gas station or a travel center, it has become a must-see attraction for a first-time Texas traveler due to its size with most locations having between 80-100 fuel pumps. Not to mention, the overwhelming amount of delicious, signature snacks at Buc-ee's like their beaver nuggets or homemade fudge. Either way, Buc-ee's has become synonymous with Texas culture. After 35 years, now Buc-ee's has decided to finally expand outside of Texas to Baldwin County, Alabama. The first Buc-ee's outside of Texas will be a 50,000-square-foot facility, which will be opening late fall 2018 at Interstate 10 and the Baldwin Beach Express employing over 200 people.
Important Role In The Community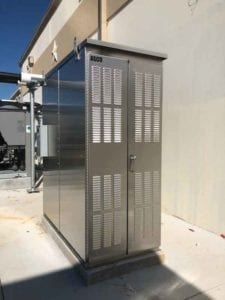 The enormous travel center serves an important role for the county being a prime stop for travelers fueling up as well as providing a wide variety of food, drink, and grocery items. Buc-ee's understands that their role is important, so always being able to serve their customers without a hiccup is one of their main priorities. Knowing this, Buc-ee's teamed up Total Energy Solutions to ensure that there is no downtime for the new Baldwin County facility, the first one outside of Texas. Buc-ee's knew they needed a powerful standby generator system that would be there, ready to go whenever they needed it. Whether that be during the busy tourism season in the summer months or during evacuation/recovery efforts during and after a hurricane.
The Solution
After working with Buc-ee's to decide what size generator and what sort of setup would work best for their needs, we were able to set them up with a 1250kw Kohler diesel generator, a 2500 AMP automatic transfer switch along with lifting equipment. TES also put in a 7700-gallon fuel tank for the generator equipped with a fuel polishing system. If needed for constant use, the fuel stored in the tank would be enough for 72 hours of consecutive runtime. We also installed a platform with stairs leading to the generator and fuel tank to help the facility meet fire safety codes. For main breakers 6' tall or higher, you have to provide stairs and platforms for quick access in case of a fire.
Buc-ee's needed reliable power, so they needed to have a reliable, long-term fuel storage solution. A 7700-gallon fuel tank would allow them to have the fuel to run for an extended amount of time, but having their generators fail in an emergency situation because of bad fuel is just not an option. To prevent this, a fuel polishing solution was implemented.
With a large standby fuel tank, a problem that you could run into is the fuel being stagnant for long periods of time due to inactivity. Fuel studies have shown that diesel fuel begins to deteriorate and form solids within 60-90 days after refining. There's a good chance that a standby generator might be used every 30 days. This inactivity gives sludge, algae, and other solids the chance to contaminate the fuel, and this can ruin a diesel engine. Fuel polishing systems that are used in standby generator systems use multi-stage filtration that enables proper sludge and water removal. The fuel polishing system circulates the fuel through a filter system over a designated time period usually once per month. The system also acts to continuously cycle the fuel so it isn't sitting stagnant for long periods of time. This process keeps the diesel fuel conditioned and protects the fuel from contaminants.
In addition to the standby generator system equipped with a fuel tank and fuel polishing system, we also provide continuous preventative maintenance for Buc-ee's new generator system to ensure their standby power generator is always running efficiently and ready to power their facility. For more information about diesel power generation systems, installation, and our preventative maintenance services, please contact Total Energy Solutions and learn more about how we can help your facility eliminate downtime when it matters most.