From October 16-18, this year's Permian Basin International Oil Show, Inc. will bring together people from every phase of the petroleum industry. Leaders will come to Odessa, Texas from every corner of the world to learn about the latest technology, the newest equipment, to transact business and renew friendships.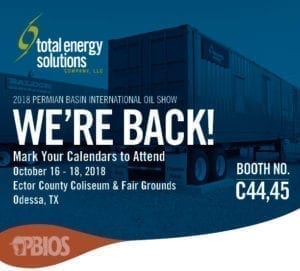 The theme of the 2018 Permian Basin International Oil Show is "We're Back" demonstrating how innovations in oil and gas technology, equipment and systems are changing everything. Reinvention and retooling continue for both conventional and unconventional upstream operations, infrastructure needs are impacting both ends of the industry pipeline.
Total Energy Solutions is helping lead the charge in supporting oil and gas companies by providing top-notch power generation solutions. TES will be at Booth # C44-C45 this year to talk to all of our long-time and new friends about the exciting new projects and advancements our company has been a part of recently.
Before we see you at the 2018 PBIOS, read more about what we've been up to including aiding the booming fracking industry in the Permian Basin, as well as helping the gulf coast region become better prepared during the 2018 hurricane season.
Each night after the show closes, come hang out with TES at our after-show party across the street from the show. See our booth staff for details.