In the Gulf Coast region, the summer and spring months bring upon hurricane season as well as unpredictable severe thunderstorms during the heat of the summer. Which is why hurricane preparedness for businesses in the Gulf Coast region is especially crucial. From local restaurants and medical facilities to utility providers such as telephone companies, all need to be prepared in emergency weather situations.
The Gulf Coast is known for its phenomenal cuisine that thrives off of local restaurants bringing the area's cultural flavors to life with fresh seafood as well as local produce and meats from nearby farms. A restaurant's livelihood is its food, most of which needs to be preserved with refrigeration. During any inclement weather that takes down power, restaurants that do not have an emergency power supply run the risk of losing most of their refrigerated and frozen inventory. Whether it is a severe thunderstorm that knocks power out for a few hours or a hurricane that has taken down power for days, in either situation, having a backup generator can save restaurants from a tremendous financial loss.
Women's and Children's Hospital – Lafayette, LA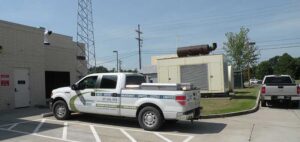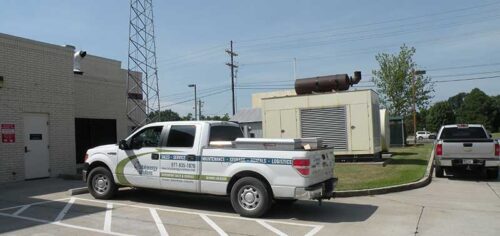 The damage caused by hurricanes can be devastating and health emergencies from extreme winds, flooding, and tornados are highly likely and frequent. In these situations, medical facilities are bombarded with patients who've suffered injuries from severe conditions along with the hospital's normal flow of patients. During hurricanes, more than ever, it is extremely important for hospitals to have power at all times to be able to provide the critical medical care needed in these emergency situations. In fact, it is required by law that hospitals and nursing homes have an emergency generator. (Health Care Facilities Code NFPA 99 and Tentative Interim Amendments TIA 12-2, TIA 12-3, TIA 12-4, TIA 12-5, and TIA 12-6) From monitoring and life support systems to refrigeration of medicine and blood banks, a loss of power can have a devastating impact on a hospital's ability to help save lives. Having a reliable and properly maintained emergency generator is a life or death situation.
Cell Phone Tower – Lafayette, LA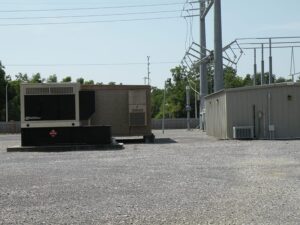 As important as emergency medical services are, communication during severe weather is also critically important. Often during hurricanes, families, and companies are separated due to evacuating into different areas or forcefully separated due to extreme flooding. Not being able to gain contact with a loved one during these times can be extremely frightening. That is why the preservation of communication during emergency situations is key. If power is lost at a cellular tower, it can be backed up by an emergency generator. If that tower is physically down, there is no more cellular signal for phones. The preservation of landlines is imperative to communication during severe weather when no other line of communication is running. Total Energy Solutions can provide Telecom companies with generators that efficiently charge battery banks with direct current (DC) output. Having an emergency generator charging battery banks for landline use could be the saving grace a family needs when separated during a hurricane.
For all emergency power solutions during this and future hurricane seasons, Total Energy Solutions (TES) can provide turnkey installation for all types of generators. TES installs diesel, propane, and natural gas generators and offers preventative generator maintenance. Whether you are replacing an existing generator, installing a new generator, or need an existing generator repaired, we can handle your needs and provide unparalleled customer service to you and your company year round. Total Energy Solutions is just that, your TOTAL solution.