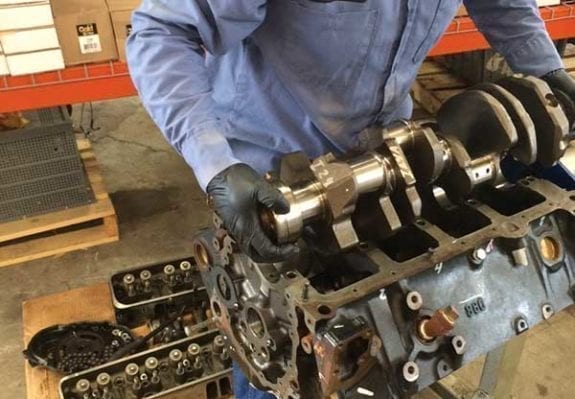 Going above and beyond for our customers is simply part of who we are at Total Energy Solutions. It is our core belief that if we provide our clients with the highest level of customer service and do all we can to help them achieve their goals, we will continue to be successful. That proved to be true once again recently when our perseverance helped a client overcome a particularly frustrating challenge.
Three months ago, we were approached by a customer who had bought a generator at an auction and wanted us to check it over and help get it ready to be sent overseas for a project. This is not an uncommon request and something we were more than happy to help with.
After performing a series of tests and a thorough diagnostic, we determined that the generator would need some repairs and new parts. Among the parts in need of replacement were the generator end, the battery, and some other smaller parts.  We contacted one of our trusted vendors to order the parts for this particular generator model, but when those parts arrived, we quickly realized that they sent us the wrong generator end. A simple mix up in their shipping department no doubt.  We contacted our vendor, explained the issue and they expedited another generator end to us.
However, when we received that part, it still wasn't the right end. It turned out that the exact generator end for our clients generator was no longer in production, so they had sent us the latest version of that part. We found that the newest model of the generator end would not work, because the voltage selector switch on the customer's unit and dog house (the generator enclosure) were not compatible with the end received. The problem was something the vendor and manufacturer had never encountered, so they sent the issue over to research and development. After 3 weeks of research and development, the vendor came back with a custom solution that required a custom fix for the generator end.
After 7 weeks of working on this generator repair that seemed simple in the beginning, we were finally able to get the unit to the customer and then overseas to his project. We know the process was frustrating, but we are extremely proud of our team for how they handled every issue along the way and kept the client informed. We were transparent with our customer every step of the way, so he would never be left in the dark wondering about his repair.
Quote From The Customer:
"Thanks a million for all you have done for me and to your company for not giving up on procuring the generator end in order to fix the generator. It was quite an experience. I hope that the generator will work as expected back in Nigeria."